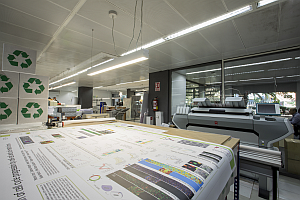 Print management in its purest form. 360º Graphic Solutions.
It doesn't matter if it is a working day or a holiday, if the production has to be carried out in summer or winter, the volume, the technology to be used, the formats, the supports, finishes or subsequent manipulations. When what matters is optimizing the budget and complying with the timeframe required by the client, our team provides high added value based on the accumulated knowledge of more than 60 years of experience in supports, inks, printing techniques, finishes, handling and national and / or international distribution channels.
We collaborate closely with the client to plan the best production and distribution strategy when launching products, graphic editions, special promotions or sales campaigns, congresses/ conferences, presentations or conventions. The entire structure of PrintMakers and our external partners are at your service for solving your needs.